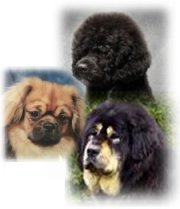 The Chesapeake Virginia Dog Fanciers Association, an all breed dog club formed in 1983, is a non-profit organization licensed by the American Kennel Club (AKC). The club's objectives are:

Protect and advance the interests of all breeds of purebred dogs.

Encourage sportsmanlike conduct at dogs shows.

Conduct sanctioned matches and dog shows under the rules of the American Kennel Club.

Provide a service to the community through the knowledge of its members.


Club meetings are held the second Wednesday of each month. Anyone interested in the sport of purebred dogs is cordially invited to attend our meetings. An educational program is usually presented each month. Some of the club's activities include an AKC sanctioned match, AKC licensed dog shows, dog show handling classes, annual awards dinner and our annual Christmas party. The club maintains a roster of all members and the breeds represented. If you are interested in purchasing a purebred puppy, have a question pertaining to purebred dogs or would like additional information regarding the club, the members listed below will gladly assist you.






Like us on Facebook!



Next Meetings:
Next meetings Wednesday, January 10, 2018 at 7PM;
and Wednesday, February 14, 2018 at 7PM;
Location: Ocean Tumblers, 901 Professional Pl, Chesapeake, VA 23320
Board Meeting prior to General Meetings at 6:15PM




---
Website contact: jillw@cvdfa.org
Last updated January 5, 2018