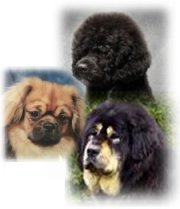 The Chesapeake Virginia Dog Fanciers Association, an all breed dog club formed in 1983, is a non-profit organization licensed by the American Kennel Club (AKC). The club's objectives are:

Protect and advance the interests of all breeds of purebred dogs.

Encourage sportsmanlike conduct at dogs shows.

Conduct sanctioned matches and dog shows under the rules of the American Kennel Club.

Provide a service to the community through the knowledge of its members.


Club meetings are held the second Wednesday of each month. Anyone interested in the sport of purebred dogs is cordially invited to attend our meetings. An educational program is usually presented each month. Some of the club's activities include an AKC sanctioned match, AKC licensed dog shows, dog show handling classes, annual awards dinner and our annual Christmas party. The club maintains a roster of all members and the breeds represented. If you are interested in purchasing a purebred puppy, have a question pertaining to purebred dogs or would like additional information regarding the club, the members listed below will gladly assist you.






Tuesday handling classes ending Tuesday October 28, 2014 6:30PM!
See calendar for more information or call Jay Brooks, 897-0844.
These classes are cancelled if raining.


A big thank you to all the volunteers that helped and made our show this year a success!
Thanks also to the volunteers at the match and Bark in the Park. What a great day.

Next Meeting: There will be no meeting in November, but a combined meeting in December.
It will be a holiday celebration and awards ceremony on Saturday, December 20, 2014, cocktails at 6PM and dinner at 7PM. RSVP required.
See Calendar for details.



---
Website contact: jillw@cvdfa.org
Last updated October 12, 2014